Graphics shows the launching process of Shenzhou-11 manned spacecraft.(Xinhua/Lu Zhe)
https://youtu.be/7Jhx4J2j_kw
China launches manned spacecraft
China launched the Shenzhou XI manned spacecraft on Monday morning to transport two astronauts to the Tiangong II space laboratory.
The spacecraft was sent skyward at 7:30 am atop a Long March 2F rocket from the Jiuquan Satellite Launch Center in Northwest China. It is carrying two male astronauts – 49-year-old Jing Haipeng and 37-year-old Chen Dong.
After the launch, the spacecraft will travel two days before docking with the Tiangong II, which was lifted from the Jiuquan center in mid-September. Then the astronauts will enter the space lab and stay there for 30 days, which will be the longest space stay by Chinese astronauts.
The core tasks of the Shenzhou XI mission are to test rendezvous and docking technologies for the country's planned space station, to verify the life-support capability of the spacecraft-space lab combination as well as conduct scientific research and test engineering experiments, according to Wu Ping, deputy director of the China Manned Space Agency.
Prior to the Shenzhou XI, China had sent five spacecraft and 10 astronauts to space since 2003, when it lifted the Shenzhou V to carry the nation's first astronaut Yang Liwei, who is now a senior space official, into space.
China is the third country in the world that has independently fulfilled manned spaceflight following the former Soviet Union and the United States.
China's manned space program, a source of national pride, aims to place a permanent manned space station, which will consist of three parts — a core module attached to two labs, each weighing about 20 metric tons —into service around 2022, according to the manned space agency.
Lab shows early results
After being launched into orbit on Sept 15, the scientific applications of the Tiangong II space laboratory have been tested and have returned data. Here are some of the results:
The cold atomic space clock, the first of its kind in space, has carried out several tests with stable results, as expected. Scientists believe that such a clock can help to synchronize other atomic clocks more precisely, and that the technological development will create more possibilities for further explorations in space.
The multi-angle wide-spectral imager has captured a range of information on oceans and land as well as changes to clouds, aerosols and water.
The stereoscopic microwave altimeter has applied interference image technology to observe sea surfaces, parts of the Yellow River, the Taklimakan Desert, lakes on the Tibetan Plateau and the Lancang-Mekong River.
An agricultural experiment has sprouted seeds of Arabidopsis thaliana, a small flowering plant, and rice. Samples will be cultivated in space and carried back to the Earth by astronauts.
The space-Earth quantum key distribution and laser communications experiment has established stable connections between the space lab and ground stations.
China to enhance space capabilities with launch of Shenzhou-11
Monday's successful launch of the Shenzhou-11 spacecraft is another step forward to put China among leading players in space technology, said Alexander Zheleznyakov, a Russian expert on history of space flights.
The craft with two astronauts aboard is planned to dock with China's second experimental space lab Tiangong-2 launched in mid-September.
The move marked China's latest effort in a couple of months toward a space power, after successes in the maiden flight of its new generation carrier rocket Long March-7 in June, and the launch of the world's first quantum satellite "Micius" in August, among other developments.
China's achievements and programs in space missions, in particular the lunar exploration program that is well planned and steadily advanced with achievable goals, are impressive and admirable, said Zheleznyakov, who is also member of the Tsiolkovsky Russian Academy of Cosmonautics.
He thought that qualities of the Tiangong-2 space lab indicate the way how China would build its planned space station, which is similar to that of the International Space Station, by gradually docking other space modules with the basic cabin.
Zheleznyakov believed that China's experimental space lab will help provide solutions for spacecraft of different functions to approach and dock, and for a long-term operation of life support system, among others, in order to increase both the safety of astronauts and the service life span of the space station.
He expected to see a node module at China's future space station with multiple docking ports, compared to the only one currently at the Tiangong-2.
The Russian expert added that manned space missions can help push the development of other industries, especially high-tech ones, as space projects involve new materials, advanced application programs and innovative technical solutions, including cutting-edge results in many areas.
Igor Lisov, a prominent Russian space expert and an editor at the industry magazine Cosmonautics News, also spoke highly of China's steady progress in its manned spaceflight programs.
With the achievements made, China can now test technologies for cargo spacecraft docking, life support system operation and water recycling, among others, so as to ensure a long-term continuous operation of its space station in future with less dependance on replenishment from the Earth, he said.
Sergey Zhukov, a test cosmonaut and president of the Moscow Space Club,said it will be the right choice for China to build a space station on the basis of the cylinder structure of the Tiangong-2 space lab.
On the prospects of China's space station, Zhukov believed that advances in technology would likely turn future space station into a terminal to enable manned space missions further beyond as well as stopovers of spacecraft such as mooncraft for maintenance and cargo relays.
Broader space cooperation between Russia and China will benefit each other, he added. Xinhua
The future of the space race
https://youtu.be/1Tsvb1t8908
The history of the space race goes back as early as the 1960s. Back then, the former Soviet Union and the United States were competing for the power of technological superiority.
But now, China has made it a 3-way race, with all three countries developing their respective space programs. However, the three countries are all headed in different directions, as each space program has its own aims and priorities.
Let's take a closer look at what the future of the space race could look like.
The space race of the 1960's between the former Soviet Union and the United States was about power, bragging rights which nation was technologically superior.
Today, the space race is well, maybe a brisk walk. And the three major space faring nations the U.S., China and Russia appear at this point, headed in different directions. So where are the big three going
Since the Shuttle Atlantis landed back at the Kennedy Space Center five years ago, the U.S. has not had the capability to put humans in space. You heard me right.
The U.S. relies on the Russians, at a cost of 65 million dollars a seat, to carry its astronauts to and from the International Space Station. That could change by 2018 when private companies Boeing and Space X should have vehicles ready to ferry astronauts.
With these Station missions turned over to private companies, NASA, the U.S. space agency is now concentrating on building a massive new rocket and a spacecraft, Orion, to carry astronauts first to an asteroid rendezvous and then Mars in the 2030s. Some U.S. partners would like to see a moon mission as a stepping stone to Mars. But NASA rarely uses the moon and Mars in the same sentence.
China on the other hand seems destined and determined to send humans to the moon.
Methodically and in measured steps, China is building toward a permanent presence in space. The Tiangong 2 Space Lab with improved living quarters and life support will be home to two Chinese astronauts for at least thirty days conducting experiments in physics, biology and space medicine.
A mission to put a lander on the moon's dark side is in the works for 2018. And a permanent space station could be in orbit by the early 2020s. All are precursors to landing its astronauts on the moon.
Russia would like to go to the moon too. But the country's struggling economy has forced a tightening of the space budget. Plans for a powerful new rocket that would take cosmonauts to the moon is delayed. But the Russians are still planning a sample return mission in the 2020's and eyeing a 2030 lunar landing. A morale boost could come this week.
A joint Russia-European Space Agency probe is scheduled to deploy a rover to the Martian surface. Russia's last successful planetary probe was in 1984. One unanswered question is whether Russia and United States will go their separate ways if the International Space Station's mission ends as planned in 2024 or continue to play in the same sandbox.
What happens in the future with the big three space powers will likely come down to politics as it usually does. Outside of cooperation in space, the U.S.-Russia relationship is strained and that may well spill over into space relations.
China was never a part of the space station family of nations. And, the U.S. congress forbids NASA from cooperating with China. So, China has been going it alone quite nicely. But nobody is getting along very well. It is possible that by the middle of the next decade, all three will be going their own ways and perhaps all in different directions.
Related posts
: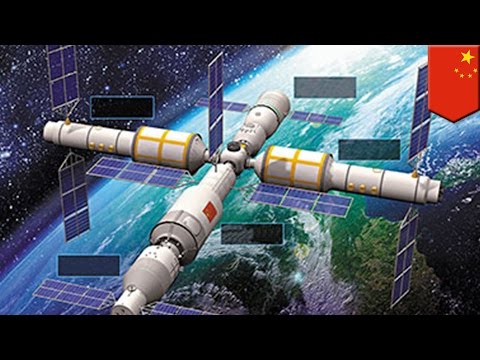 Chinese astronauts Jing Haipeng (L) and Chen Dong meet the media at a press conference at the Jiuquan Satellite Launch Center in northwest...
China successfully launched Tiangong-2 space lab
https://youtu.be/2Ia25ls46WM
https://youtu.be/goRzJM4PIEI
China's Tiangong-2 successfully launched Crossover: China's Tia...